April 28, 2022
GMO Internet Group Cleaning Activity Report (Shibuya/Miyazaki)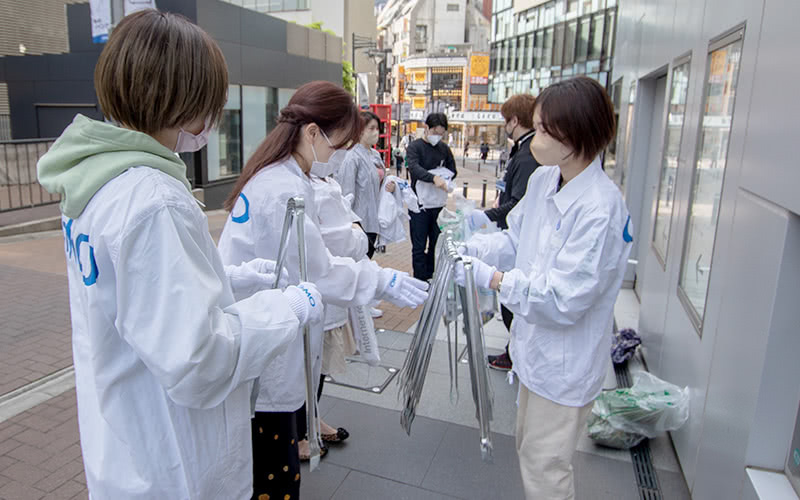 Cleaning activity in the Shibuya area by 59 people
In Shibuya City, April 28 is designated as "4 (shi), 2 (bu), 8 (ya) day" every year, and the city, city residents, and business establishments are working together to carry out cleaning activities.
GMO Internet Group participated in this initiative and recruited volunteers from partners (employees) to independently carry out cleaning activities on Thursday, April 28, 2022.
This time, a total of 59 partners carried out cleaning activities around Cerulean Tower, where GMO Internet Group's headquarter is located, and Tokyu Plaza Shibuya (Shibuya FUKURAS), where GMO Internet Group's second headquarter is located.
Voices of participants in Shibuya area cleaning activities
It was my first time participating in a cleaning activity. It was over in the blink of an eye. It was fun. Afterward, there was a sense of accomplishment and it was a meaningful time.
I participated to kill two birds with one stone, i.e. I could clean the city while avoiding being confined to my chair. Through the activities, I was able to interact Human capital management from other companies in the group, and it was an unexpectedly enjoyable time.
I was able to clean a part of Shibuya, where I usually spend time in, and I felt very proud. Through this activity, I believe I have contributed to the creation of a comfortable environment not only for our partners but also for those who spend time in Shibuya to the best of my ability. I am also very pleased to be able to participate in this wonderful activity as a partner of GMO Internet Group. I would like to participate again if I have the opportunity.
Cleaning activities were also carried out at the Miyazaki office "GMO hinata"
On Wednesday, March 16, 2022, GMO Internet Group Miyazaki Office "GMO hinata" carried out cleaning activities on the sidewalks and in the parking lots around the office.
GMO Internet Group will continue to carry out environmental beautification activities such as cleaning on a regular basis in each region to contribute to the community.
Cleaning activities were carried out in front of Shibuya Station (Shibuya City official website)