Email Policy
Have you ever received emails that advertise or solicit some products or services you don't remember signing up for?
Emails sent to other people indiscriminately in bulk, which are generally referred to as "spam" or "junk mail," are now becoming social problems. The act of sending spam can produce various undesirable consequences, including the communication costs unfairly borne by the recipients of such emails.
GMO Internet Group, Inc. conducts business based on a policy of providing a pleasant Internet experience to customers.
What is Spam?
Spam refers to the unsolicited, indiscriminate distribution of information via email that includes product advertisements and invitations to join some groups, businesses or pyramid schemes. The term is said to be derived from a song featured in a comedy sketch by the famous group Monty Python, where Spam, the name of a canned food product, was repeated over and over. Thus, the name itself has come to be used for unsolicited emails or the practice of sending them.
How Much Trouble Spam Causes
In most cases, unauthorized emails from complete strangers not only make recipients feel uneasy, but also greatly annoy or offend recipients, depending on the content. As mentioned at the beginning, the costs of receiving spam, which is the online equivalent of direct mail, are borne by recipients, unlike conventional mail.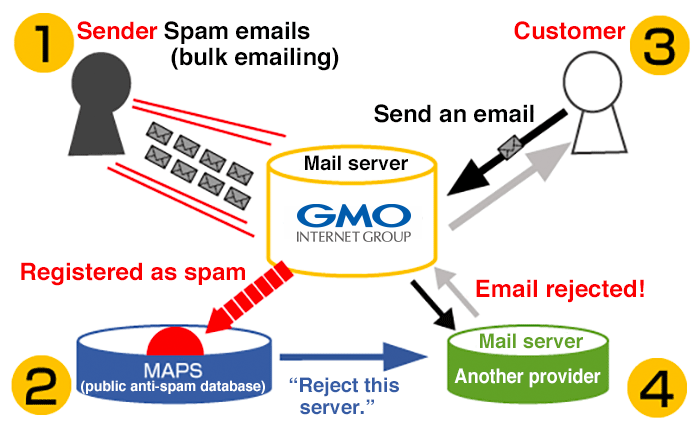 How Spam Works
A sender sends spam emails.
The mail server used for sending spam is added to the public anti-spam database called "MAPS".
When a customer sends an email…
Because the mail server is listed in the public anti-spam database, many other mail servers start to reject emails sent from this server. When this happens, emails from users who normally use this mail server will be rejected by recipients without them knowing why.
When tens or hundreds of thousands of emails are sent out at once, the mail server used for sending them as well as the perimeter networks becomes extremely busy. As a result, a legitimate customer will be forced to wait for a long time just to send one email.
For a spammer, it may be just one click of the "send" button, but spam produces undesirable consequences that are immeasurably far-reaching, even causing inconveniences to people who have nothing to do with the spam, as described above.
Our Request to Customers
Having read this far, you might now have a clear picture of how much trouble spamming causes to other Internet users. Furthermore, the act of sending spam is a problem in itself, regardless of whether the message is legal or not. All customers who use GMO Internet Group, Inc.'s services are reminded to please refrain from engaging in spamming, including the sending of massive amounts of emails or email advertisements for online shops at such frequency that would cause a nuisance to other Internet users.
Confirmation of Header Information
If you have any questions regarding how to see header information, please contact your email software provider or cell phone service provider.
1. Check the header information of a junk mail
Since the "From:" (sender) field of a junk mail is often renamed, you need to check the email's header information including the "Received:" (route) field to identify the sender. The "Received:" (route) field in the header information shows the sender of the email. Please check the IP address as well as the hosts that the email passed through en route, and contact the relevant service providers.
NOTE: We cannot restrict the sending of emails if another company's outgoing mail server is used.
2. Check the IP address contained in header information
Example)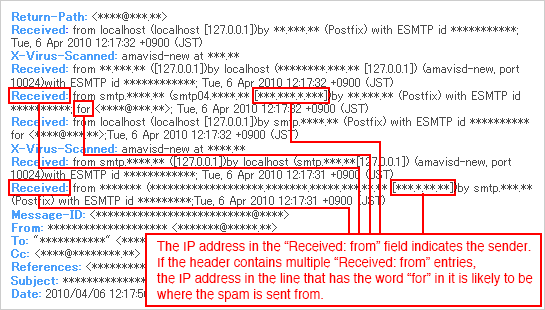 NOTE: The format varies depending on the email software.
3. Identify the service provider
To identify the service provider, go to JPNIC's "WHOIS Gateway," and enter the IP address in the Search Keyword field to start the search.
NOTE: Only the IP addresses that can be confirmed by JPNIC are searchable.
4. Report the service provider
Check the service provider shown in search results and contact the relevant office.
Our Commitment
GMO Internet Group, Inc. recognizes the following activities as spam. If such activities are confirmed, we will take necessary actions including account suspension in some cases.
Massive amounts of emails were sent from a mail server managed by GMO Internet Group, Inc.
Massive amounts of emails were sent via an external mail server, using the Internet service provided by GMO Internet Group, Inc.
If you have received spam sent from a mail server managed by GMO Internet Group, Inc., please report it to Office for Junk Mail Reports.