CEO's Message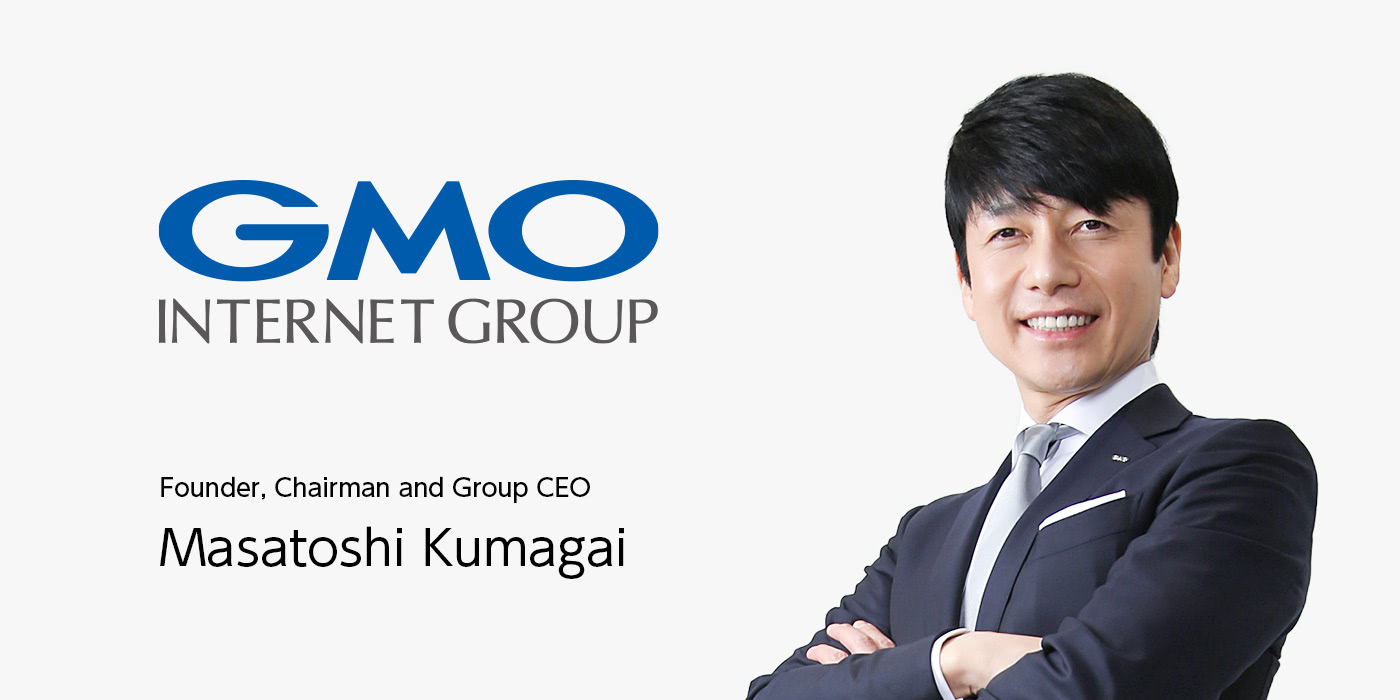 Enriching the Internet and making it easier to use
Since the GMO Internet Group began its internet related business in December 1995, we have striven to offer enriching and easy to use Internet related services under the motto "Internet for Everyone."
Currently, we have Internet Infrastructure, Online Advertisement and Media, Internet Finance businesses, and Cryptoassets businesses.

In the Internet Infrastructure Segment, all products are the No. 1 market share in Japan. Other than that, the number of customers increased in Japan and abroad. As part of our efforts to expand our business domains, we have also launched our next-generation Internet banking business GMO Aozora Net Bank in 2018 and begun new services collaborating with various Internet services inside and outside our group.

With the expansion of DX, digitalization, and IoT in today's world, security measures have become an urgent social issue, and protecting Japan's Internet is more important than ever. That is why we launched our security services, with the slogan "Secure and Safe Internet for Everyone," making them available to all customers. Our aim is to address these security problems by providing three pillars of security: the cybersecurity business with GMO Cybersecurity by Ierae, a white hat hacker organization; the cryptosecurity business; and the brand security business.

As a result, the total number of customers of the Internet Infrastructure Segment and the Finance businesses reached about 16.03 million as of March 31, 2023. And we have grown into a comprehensive Internet group made up of 107 group companies centered around 10 listed companies run by 7,361 group partners.
Internet became social infrastructure
In 1994, I read an article on Nikkei Ryūtsū Shimbun (currently, Nikkei Marketing Journal) and discovered the Internet.
The moment I read the article, I strongly felt that Internet would change our lives and become social infrastructure, so I launched an Internet operation in December 1995, offering overwhelming services in terms of the specification and the price.
Although Japan was still at the dawn of the Internet industry then, the Internet industry became a social infrastructure indispensable to our lives through the arrival of the cryptoassets and the birth of mobile devices including smartphones in addition to technological evolution and the advancements in telecommunications environment.
Create smiles and excitement, and contribute to society and people
Currently, the world has been revolutionizing because of arrival of full-scale IoT age, automation utilizing artificial intelligence (AI), and economic activity that Cryptoassets brought about. New, easier to use services that enrich our lives will be created one after the other through the integration of the Internet and various industries.

With cutting-edge technology and speedy management, we will create services of our own, which will allow us to provide No.1 solutions and grow our customer base.

GMO Internet Group will continue to create smiles and excitement and will strive to contribute to society and people. We would like to ask for your continued support in our endeavors.
Updated: March 31, 2023
Founder, Chairman and Group CEO
Masatoshi Kumagai