2023.05.17
GMO Internet Group Recognized as a "Gold Partner" of TABLE FOR TWO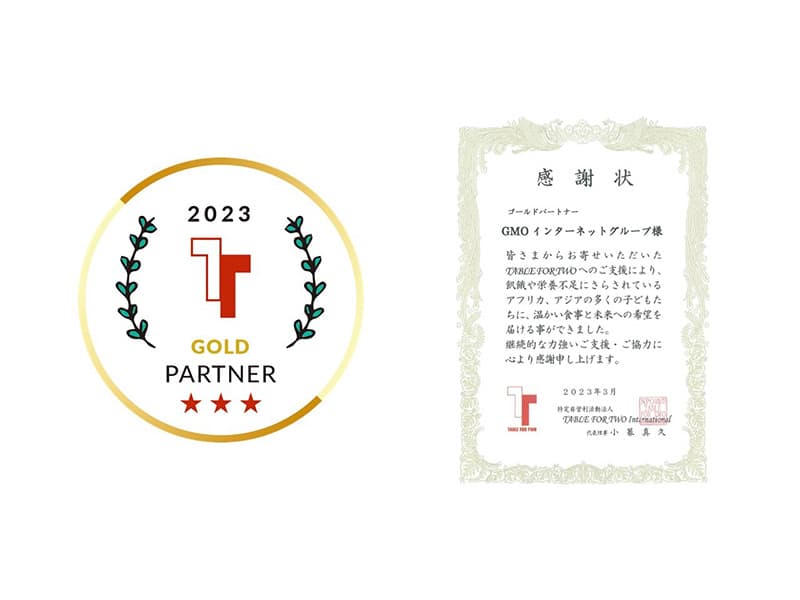 GMO Internet Group received a letter of appreciation from TABLE FOR TWO International, a non-profit organization, recognizing the Group as a "Gold Partner" for its support in 2022.
Outline of TABLE FOR TWO
TABLE FOR TWO is a program that helps pay for school lunches for children in developing countries by donating 20 yen for every meal of reduced-calorie food purchased to help prevent obesity and lifestyle diseases.
Approximately 1 billion of the world's 7.5 billion people suffer from hunger and malnutrition, while nearly 2 billion suffer from obesity and other diet-related diseases.
TABLE FOR TWO aims to eliminate this worldwide imbalance in diet while improving the health of people in both developing and developed countries.
GMO Internet Group's commitment to TABLE FOR TWO
GMO Internet Group has continued to make donations every year since introducing TABLE FOR TWO in 2020. As a result of our efforts, the cumulative amount of donations up to 2022 is equivalent to approximately 68,000 meals.
■ Provide TABLE FOR TWO and CUP FOR TWO compatible menus, etc.
GMO Internet Group continues to raise awareness among its partners (employees) by offering TABLE FOR TWO lunch menus and CUP FOR TWO drink menus at GMO Yours (*1), a communication space that offers lunch and café menus, as well as by displaying posters.
(*1) Shibuya, Tokyo location
TABLE FOR TWO compliant lunches

CUP FOR TWO compatible drinks
TABLE FOR TWO compliant lunches
To promote the health of our partners, we have developed lunch menus that are "low in calories (around 680kcal)," "nutritionally balanced," and "rich in vegetables.
Past TABLE FOR TWO lunches provided
Period: January 2021 - December 2022 Number of meals
served: 20,582
CUP FOR TWO compatible drinks
Since May 2021, we have been offering fair trade tea and ethical coffee using organic farming methods.
CUP FOR TWO compliant drinks offered
Period: May 2021 - December 2022 Number of drinks
served: 23,199
■Speaker at the "TABLE FOR TWO Activity Report Meeting 2022" (May 2022)
On May 17, 2022, we participated in the "TABLE FOR TWO Activity Debriefing 2022" held online and presented our daily activities as a company introducing TABLE FOR TWO. In the debriefing session, we explained that we usually offer TABLE FOR TWO compatible menus at GMO Yours with a focus on health and deliciousness, as well as our activities in "Onigiri Action".
■Winner of the "TABLE FOR TWO Award 2022" in the menu and beverage category (June 2022)
At the "TABLE FOR TWO Award 2022," held in June 2022, the GMO Internet Group won an award (*2) in the menu and drink category for its "Soy Meat and Veggie Peel Meat Sauce Penne" under the theme of sustainability.
The purpose of the award is to share healthy company cafeteria menus and promote "TABLE FOR TWO" activities beyond the boundaries of companies that have implemented the "TABLE FOR TWO" program to encourage employee participation in social contribution activities.
(*2) Awarded as GMO Internet Group and LEOC Inc.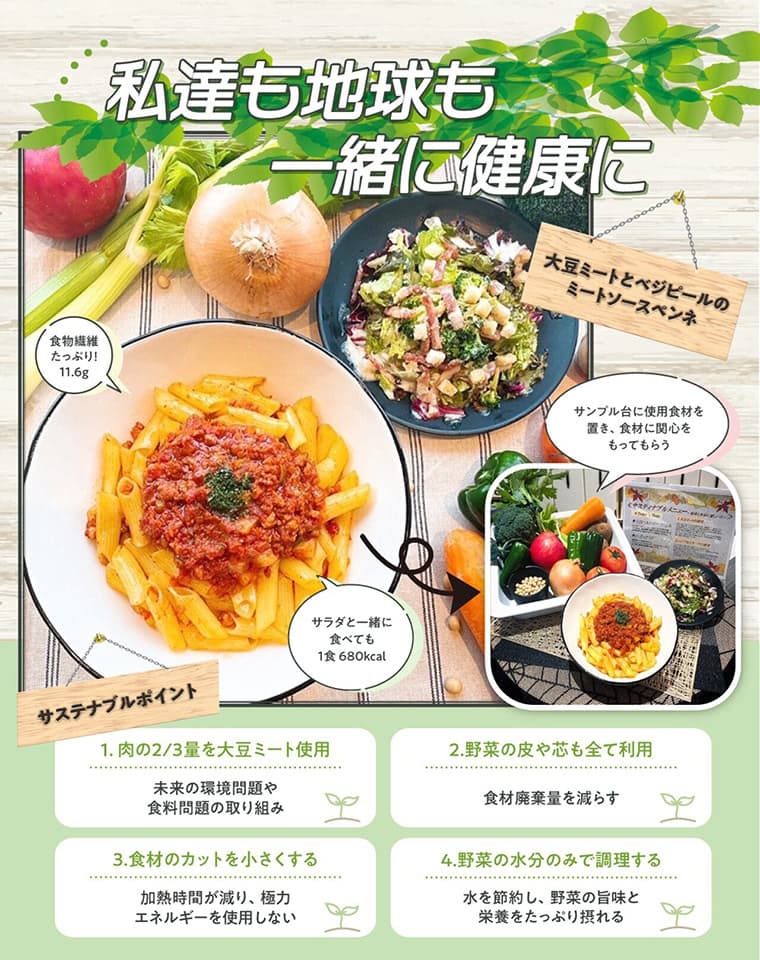 ■Implementation of "World Food Day Project" (from 2020)
In conjunction with World Food Day (a day for people around the world to think about food and food issues) on October 16, which is designated by the United Nations, we have been participating in the World Food Day Project since 2020. We also sponsored Walking Event and "Onigiri Action".
1. Sponsorship of "Onigiri Action 2022"
We sponsored and participated in the "Onigiri Action 2022" campaign organized by TABLE FOR TWO held from October 6 to November 6, 2022. As part of the project through the same period, we provided approximately 20,600 special rice balls and rice ball breads (5,000 last year) free of charge to our partners at GMO Yours for lunch and snacks. All group partners participated in the initiative in which 5 school lunches were donated by supporting companies for every photo posted related to onigiri.

2. Implementation of "GMO Walk"
From October 11 to November 6, 2022, we conducted our own "GMO Walk," in which school lunches were delivered to children in developing countries according to the cumulative number of steps taken by all participants.
The target of 65,000,000 steps was reached during the period, and 5,000 school lunches were donated.
GMO Walk Implementation Results
Period: October 11, 2022 - November 6, 2022
Number of GMO Internet Group participants: 277
Number of meals donated: 5,000
GMO Internet Group will continue to develop and provide TABLE FOR TWO compliant lunch menus and promote sustainable initiatives that consider people and the environment through food.