GMO Internet, Inc. (GMO Internet) announced on August 4, 2016 its launch of the new business-focused cloud platform Z.com Cloud(URL:
https://cloud.z.com/jp/
), through which it plans to offer one stop IT solutions for the business needs of its diverse customers.
Z.com Cloud has the reliable, highly operative and flexible IaaS based cloud computing service at its core and offers pre-purchase consultation as well as operates a call center able to support system setup, operation and monitoring. GMO Internet Group companies are also providing their domain, SSL, payment, and customer attracting services, making this combination of IT solutions indispensable for businesses.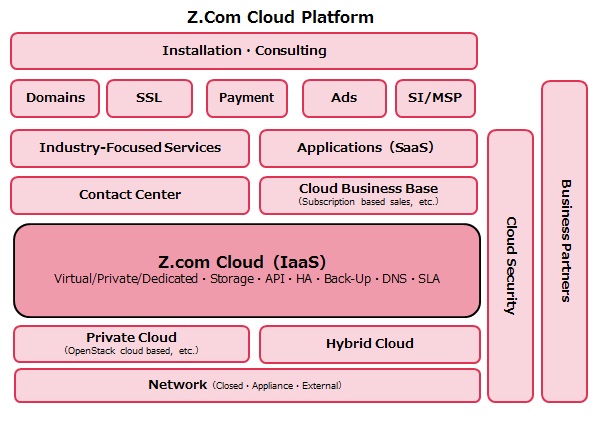 Launching the Z.com Cloud Platform
GMO Internet offers a wide variety of cloud and hosting services, including cloud and VPS services and shared servers.
Over the past few years, companies including startups have increasingly been using cloud services for web service development and IoT system building, as well as for enterprise level large scale system construction. Also recently becoming popular is the concept of "open innovation," which emphasizes utilizing the technology and ideas of outside sources such as other businesses and organizations and sharing that data to create new business models and better services than what could have been created in-house alone. Further implementation of this model as the foundation for systems is highly anticipated, as it would allow for a cloud service that can easily access multiple resources.
Such enterprises' needs for cloud services has also caught our attention, which is why we want to offer businesses a more flexible IaaS based cloud platform through Z.com Cloud.
Features of the Z.com Cloud Platform
■

Applying our collective expertise to solve an array of issues
GMO Internet's game and application focused cloud service GMO AppsCloud boasts over 2,000 titles, and is relied on by many game developers. The cloud platform ConoHa by GMO has a business partner option, through which it has been able to make various business connections with system development companies and SaaS vendors.
Z.com Cloud is applying these services' knowhow in order to offer a cloud platform that is better able to answer customers' business and system related needs.
■

Offering a variety of IT solutions to meet customers' needs
Z.com Cloud relies on IaaS cloud computing, which is reliable, highly operative and flexible and is able to offer customers the IT solutions that are essential for running their businesses smoothly, all in a one stop format. Pre-purchase consultation and a call center able to support system setup, operation and monitoring are available, and GMO Internet Group companies provide domain, SSL, payment, and customer attracting services, making us able to offer an unbeatable combination of IT solutions that can meet businesses' needs.
The Optimum Sales Management System for Subscription※ Based Businesses
One unique feature of Z.com Cloud is the "Sales Management System," which allows subscription based businesses and other services with a large amount of users to manage users' bills and payments simultaneously (service launch planned for the beginning of 2017).
The "Sales Management System" is a GMO Internet original, and uses our reliable in-house system to offer essential features to our customers' businesses, including management of users' information, product data, and sales data as well as organization of recurring payments such as for monthly bills and usage.
When a company utilizes this system, the difficulties of managing a large number of users decrease, and the company is able to focus more on areas such as service development and marketing.
(※
) Subscriptions refer to the sales method of charging users during the period of their contract for fees associated with services and software used. In the case of products, it refers to the scheduled delivery and purchase of products over the course of the contract period.
About the Z.com Cloud Partner Program
 Z.com Cloud has two types of partner programs, the first being the Sales Partner option for resellers and agents, and the Business Partner option for customers who are using Z.com Cloud for solution development and sales purposes. We support businesses by providing specialized training in various fields, technical knowledge resources, and by assisting developmental environments, marketing, and promotions, as well as a vast array of other benefits in order to support the needs of our partner companies.
We plan on offering an increasing amount of benefits through the Z.com Cloud Partner Program.
The Next Step for Z.com Cloud
At Z.com Cloud, we have a number of service updates planned, and we hope to be able to provide a top notch, high quality environment where customers can successfully produce their new businesses.
By continuing to strengthen the GMO Internet Group and our partnerships, we want to be able to support our diverse customers from all angles.
About Z.com and Brand Ambassador Football Player Shinji Kagawa
Z.com is the global brand of leading Internet service provider GMO Internet and currently has IT infrastructure related businesses operating in Japan and Southeast Asia as well as FX and CFD trading services in China and England.
Z.com is aiming to increase its brand value by locally supporting the popular sport of football in Asia, and in March 2016, they signed a contract with the Vietnamese superstar football player Cong Phuong Nguyen to make him an official brand sponsor. In April, he was appointed to become the top star partner for Vietnam, and in July of the same year, the Japanese football player Shinji Kagawa was appointed as Z.com's brand ambassador.
The GMO Internet Group hopes to use Z.com to inspire and bring smiles to the faces to many people through its services in Japan and throughout the world.


---

*This translation is based off of a press release originally written in Japanese.
  https://www.gmo.jp/news/article/?id=5422


 

Group Public/Investor Relations

TEL

:

+81-3-5456-2695

 

E-mail

:

pr@gmo.jp

【

Service Related Inquiries

】

Cloud Business Department

E-mail:biz.cloud.jp

@

z.com
【

GMO Internet, Inc.
】 (
URL
:
http://www.gmo.jp/
)
| | |
| --- | --- |
| | |
| | 26-1 Sakuragaoka-cho, Shibuya-ku, Tokyo |
| | Masatoshi Kumagai, Founder and Group CEO |
| | Internet infrastructure, online advertising and media, Internet securities, mobile entertainment |
| | 5 billion yen (As of March 31, 2016) |
Copyright (C) 2016 GMO Internet, Inc. All Rights Reserved.