December 19, 2018
GMO GlobalSign's Cryptknocker byGMO, a Mining Software, Now Supports Bitcoin Gold: Achieving the World's Fastest Software in Bitcoin Gold Mining!
Tokyo, Japan – December 19, 2018 – GMO GlobalSign (https://www.globalsign.com ), a global certificate authority and a subsidiary of GMO Cloud K.K. under GMO Internet Group, today announced that Cryptknocker byGMO ("Cryptknocker"), the world's fastest1 cryptocurrency mining software, has been upgraded on December 19th, 2018 to additionally support Bitcoin Gold (BCG) mining2. This version realized the world's fastest hash rate with Bitcoin Gold in addition to the originally supported Zcash (ZEC).

■ Now Supporting Bitcoin Gold Mining in Addition to Zcash
Cryptknocker is a mining software for cryptocurrencies that utilizes the Equihash algorithm. The software takes advantage of the technical knowledge of the certification authority business that GMO GlobalSign has cultivated, such as PKI (Public Key Infrastructure) encryption technology, and the expertise to speed up data processing during encryption.

Since the provisioning of Cryptknocker in September 2018, it supported only Zcash mining that utilizes the Equihash <200,9>. However, Bitcoin Gold mining using Equihash <144,5> is now also supported by the upgraded Cryptknocker.

■ Accomplishing the World's Fastest Equihash Mining Software
With the high-speed encryption logic embedded, which is a part of GMO GlobalSign's cultivated encryption technologies, Cryptknocker has achieved the world's fastest hash rate3 among mining software that supports Equihash <200,9> and <144,5> algorithms.

40.74 Sol/s was recorded during the verification process of Bitcoin Gold that Cryptknocker now supports, enabling a maximum of 10% improvement in mining efficiency when compared with other existing software.

▼Comparison of the Average Hash Rate of Bitcoin Gold4

| | | | |
| --- | --- | --- | --- |
| | Cryptknocker | Other Software | Mining Efficiency |
| Windows ver. | 41.37 Sol/s | 37.29 Sol/s | 10.9% improved |
| Linux ver. | 40.74 Sol/s | 37.75 Sol/s | 7.9% improved |
■ Service Supported in Japanese and English
While most of the mining software currently available in the market are in English language only, Cryptknocker has its service websites in Japanese and English. Additionally, easy-to-follow FAQs are available for mining beginners in both Japanese and English, allowing miners around the world to use the service comfortably and securely.
How to Use "Cryptknocker"
All miners (customers) need to do to mine is to prepare a wallet in advance, download the software from the Cryptknocker website to their computer, activate it, select a pool, and execute the command. When mining is successful, 98% of the computational processing automatically goes into the customer's wallet, while the remaining 2% enters Cryptknocker's wallet as the usage fee (developer compensation).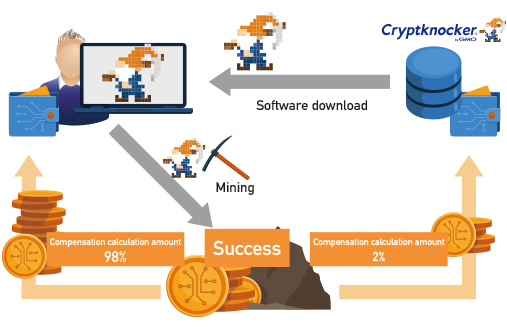 Service Overview

Product Name
Cryptknocker byGMO
Version
Cryptknocker v1.1
Method of Provision
Downloadable from the Website (Free*)
2% of the mining compensation will be collected as usage fee (developer compensation)
Supported GPU
NVIDIA's GTX1060 6GB or later
Supported OS
Windows7 or later, Linux (CentOS6/7 or later, Ubuntu14.04/16/04 or later)
Supported Currency
Cryptocurrency that supports Equihash <200,9> <144,5> algorithm
* Verified cryptocurrencies are Zcash and Bitcoin Gold only (As of December 19th, 2018)
Source
GlobalSign Pte.Ltd.
Website URL
https://www.cryptknocker.com
1 Compared with the average value of the hash rate when continual operation of the main mining software compatible with Zcash and Bitcoin Gold is sustained under the same conditions for a certain period of time on NVIDIA's "GTX1070". (Self-reported by GMO GlobalSign)
2 Update (Re-download) is required for existing users of Cryptknocker for Bitcoin Gold mining.
3 Hash rate is defined by the speed of mining. Whenever there is a transaction in cryptocurrency, the miners across the world conduct calculations for a few minutes. The number of calculations per second is referred to as the hash rate, and a unit of "sol/s" is used in the case of cryptocurrencies utilizing the Equihash algorithm.
4 Compared with the highest average hash rate by major mining software compatible with Bitcoin Gold operated on NVIDIA GTX1070 for a certain period of time.
About GMO GlobalSign
GlobalSign is the leading provider of trusted identity and security solutions enabling businesses, large enterprises, cloud service providers and IoT innovators around the world to secure online communications, manage millions of verified digital identities and automate authentication and encryption. Its high-scale Public Key Infrastructure (PKI) and identity solutions support the billions of services, devices, people and things comprising the Internet of Everything (IoE). The company has offices in the Americas, Europe and Asia. For more information, please visit https://www.globalsign.com
GMO Internet Group
GMO Internet Group is an Internet service industry leader, developing and operating Japan's most widely used domain, hosting & cloud, ecommerce, security, and payment solutions. The Group also includes the world's largest online FX trading platform, as well as online advertising, Internet media, and cryptocurrency related services. GMO Internet, Inc. (TSE: 9449) is headquartered in Tokyo, Japan. For more information, please visit https://www.gmo.jp/en/
Press Inquiries

GMO Internet Group
Group Public / Investor Relations
TEL: +81-3-5456-2695
Email: pr@gmo.jp