July 20, 2017
GMO Internet Launches GMO Blockchain Open Source Software Project, Offering Medical Record Sharing System as The First Initiative
Tokyo, Japan – July 20, 2017 – GMO Internet (https://www.gmo.jp/en/ ) launched GMO Blockchain Open Source Software Project (GMO Blockchain OSS) that would develop programs using a blockchain as open source, and as the first initiative, on July 6, 2017, we launched an open source medical record sharing system (https://guide.blockchain.z.com/en/docs/oss/medical-record/ ).
Medical record sharing system is a system that enables patients (users) to provide medical institution with authority to view and record medical information, such as an electronic medical record and patient (user) prescription data that were until now spread across hospitals and pharmacies. Realizing this system will enable medical information to be shared properly at right time. If the user provides the hospital with authority, the doctor at the hospital will be able to obtain precise medical history and understand any allergy the patient may have or drugs being taken by the patient through devices located at the hospital, so this system can be useful if it is introduced into practice.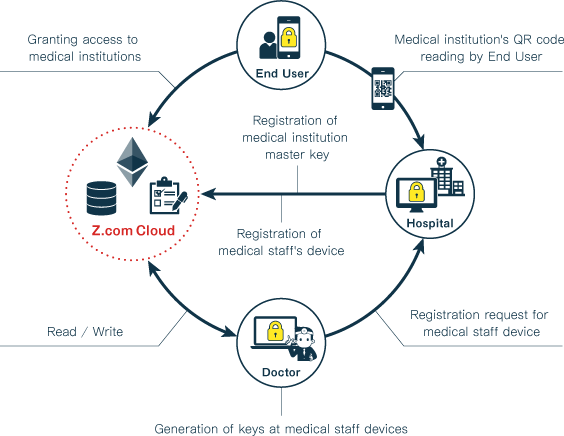 <Service flow of medical record sharing system>
【About GMO Blockchain OSS】
Blockchain technology is a technology to record and retain data distributed on multiple computers, which was invented as a core technology behind bitcoin, one of the virtual currencies. It recently garnered much attention because it can realize fraud-resistant, immutable, highly available (zero-downtime) system for a low cost.
GMO Internet develops software using blockchain technology and makes full use of know-how derived from operating Internet infrastructure services for more than 20 years. In December 2016 we launched beta version of Z.com Cloud blockchain and ConoHa blockchain. These services allow easy creation of distributed blockchain applications*1. In fact, we successfully implemented a smart delivery box system based on Z.com Cloud blockchain*2.

Based on the knowledge gained through such experience, GMO Internet is developing open source (free to modify, free for commercial use) programs capable of supporting real service development. GMO Blockchain Open Source Offering Project was launched to realize and grow new services utilizing blockchain technology.

As the first initiative, we now created a Medical Record Sharing System based on Z.com Cloud Semi-Public Blockchain and started providing open source from today. We will continue to publish open source programs that meet various needs in the future.
*1 Reference: https://www.gmo.jp/news/article/?id=5540
*2 Jointly developed with GMO GlobalSign and Saison Information Systems. Reference: https://www.gmo.jp/news/article/?id=5542

【The mechanism of medical record sharing system】
Medical record sharing system is a system in which information that was until now spread across medical institutions, such as hospital medical records and pharmaceutical prescription data, is shared within medical institutions with authority (viewing and recording) provided by the patient (user).
As this system develops into real service with open source that we are now offering, and as medical institutions utilizing this system expand nationwide, for example, even in a hospital where a user is visiting for the first time due to a sudden emergency while traveling, if the user gives authority, the doctor can accurately and quickly obtain the user's medical history, allergies, prescriptions, etc. through devices located at the hospital, so this system can be useful if it is introduced into practice.
■Advantages of a Blockchain Based Solution
Controlling or permitting properly access to a secure information traditionally required entrusting rule enforcement and verification to an impartial third-party that guaranteed its authenticity. Rule enforcement and verification by third-party involved labor intensive manual validation based on confidence in an individual and an organization, which in general not only required human resource but also incurred a monetary cost for constructing and managing the mechanism.
However, with the blockchain, defining rules in terms of codes (programs) will automate processes that are based on the rules, so procedures can be executed properly without third-party intervention. This mechanism of validation is an intrinsic feature of the blockchain.
Shifting the roles traditionally assumed by third-party institutions to the blockchain and constructing mechanisms that keep working mechanically and permanently with programs will make it possible to achieve a large reduction in personal and monetary costs.
■What Z.com Cloud Blockchain can do
1. Restricted information disclosure (access control)
In the blockchain, recorded information is open so as to guarantee that no inappropriate falsification of data written therein takes place but this inevitably discloses personal information and confidential information.
In Z.com Cloud Blockchain, establishing data store (data storage area) to store confidential information and separating it from the blockchain will enable controlling access to the inside of data store, so information disclosure can be restricted. This enables us to realize an environment where only medical institutions with authority provided by patients (users) and the devices holding keys can view and record confidential information, such as an electronic medical record and patient (user) prescription data.
2. Bear the patients' (users') costs
In the blockchain, all historical data of the user's actions - e.g. Mr. A provided Hospital B with authority, Dr. C created an electronic medical record of Ms. D - are recorded, and at the time of recording these historical data, the user who recorded them (took actions) needs to pay the cost in virtual currency. However, it is still uncommon for general patients (users) and medical staffs to possess virtual currency in devices they use, so they may avoid using the above service.
In Z.com Cloud Blockchain, since service provider bears the cost of recording to the blockchain, patients (users) can take advantage of the system without being required to pay in virtual currency every time.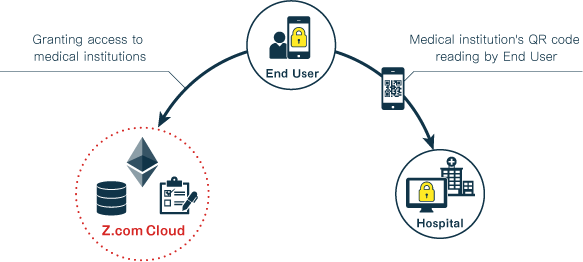 [Patient (User) - Service Flow]*3
1. Access start screen through mobile device of the user and automatically generate unique key within this device
2. Read QR code at a medical institution that introduced this system, and acquire medical institution's address
3. Grant access authority to medical institution and record it on the blockchain
*3 The image of service flow of open source program of medical center record sharing system. For the program to be actually used in service, be creative with ways to manage and secure the keys.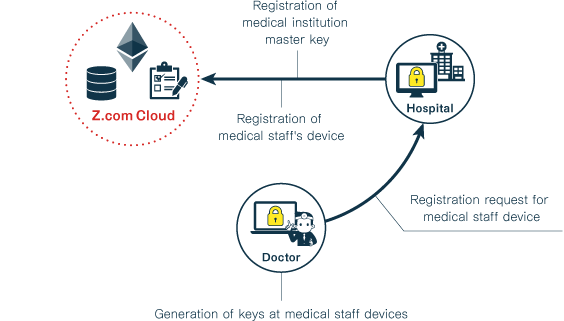 [Medical Institution – The System's Implementation Flow]
1. Access start screen through device located at medical institution (automatically generate medical institution specific master key)
2. Register Medical Institution Master Key (recorded on the blockchain)
3. Generate keys specific to each device used by medical staff
4. Record devices used by medical staff on the blockchain after approval by master key

GMO Internet Group
GMO Internet Group is an Internet services industry leader, developing and operating Japan's most widely used domain, hosting & cloud, ecommerce, security, and payment solutions. The Group also includes the world's largest online FX trading platform, as well as online advertising, Internet media, and mobile entertainment products. GMO Internet, Inc. (TSE: 9449) is headquartered in Tokyo, Japan. For more information, please visit http://www.gmo.jp/en/.
Press Inquiries

GMO Internet Group 
Group Public / Investor Relations
TEL: +81-3-5456-2695
Email: pr@gmo.jp