December 12, 2016
GMO Registry Announces .shop, the Online Address for all Shops,
has Reached 100,000 Domain Name Registrations

In little more than two months .shop forges position as leading ecommerce domain
Tokyo, Japan – December 9, 2016 – GMO Internet Group company, GMO Registry, Inc. announces that .shop, the generic Top Level Domain (gTLD) for all online and offline shops, today reached 100,000 domain names. This significant milestone comes just over two months since .shop opened for business on September 26, 2016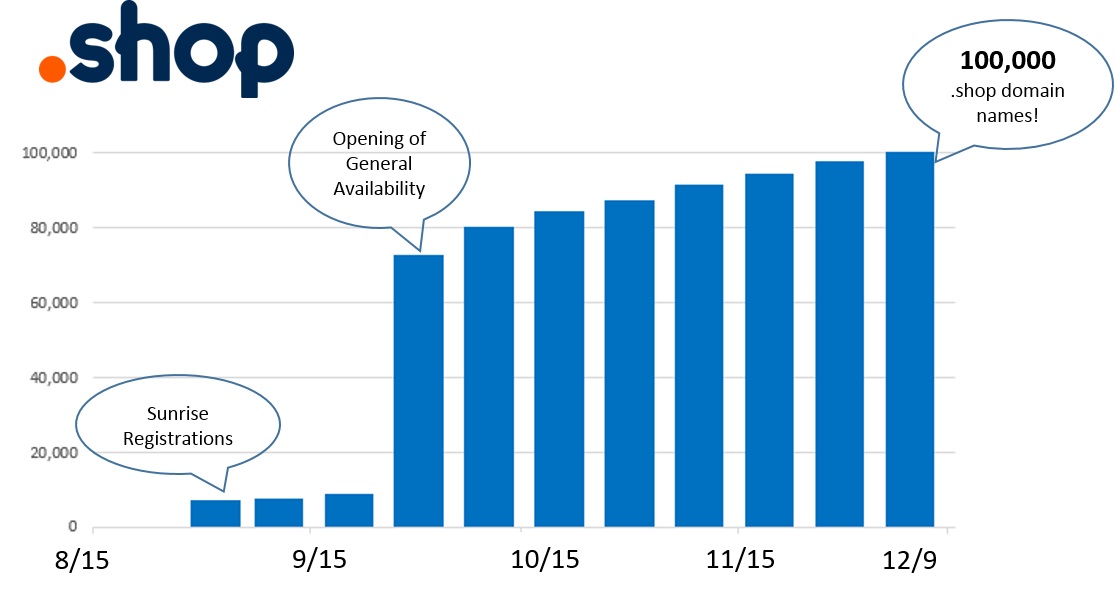 Top 20 .shop Countries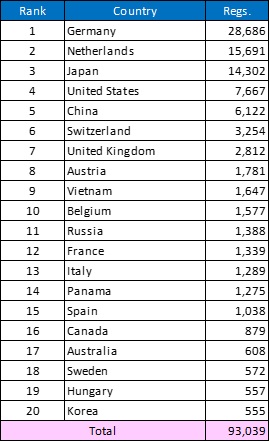 On June 30, 2016 .shop was opened for the first time exclusively to trademark holders. Over the two-month Sunrise period more than 1,180 domain names were applied for and allocated, making .shop one of the most successful new gTLD Sunrises to date. Following Sunrise, .shop entered an Early Access Phase, providing advance access to first pick of .shop domains! This phase attracted more than 5,200 registrations. On September 26, 2016 .shop was officially opened for business, and in the first 18 hours more than 53,000 domain names were registered, bringing total number of registrations to around 60,000. Since then registrations in .shop have grown steadily and today hit the 100,000 domain name milestone.
Looking at the geographical distribution of registrations, .shop has been registered in a total of 151 countries. Germany is the country that has the highest number of .shop domain names at 28,6086. Coming in at second place is the Netherlands at 15,6591, and Japan is in third place with 14,115 302 registrations. There is no doubt that Europeans are embracing .shop with more than 60% of registrations coming from European countries.
About .shop
.shop is a domain name for all online and offline shops. Short, intuitive, memorable and broadly understood, Internet users instantly identifyies a .shop website as a place to shop. Registration of .shop is open to all and there are many potential uses of the domain as .shop can be for anyone, anywhere with something to sell online or offline. It is a great choice for any kind of online businesses including digital content and ecommerce solutions providers as well as the growing B2B ecommerce market. A .shop domain name can also help offline retailers and service providers to be discoverable online. For corporations, short, memorable .shop domain names are a powerful marketing tool and can be used to distinguish their corporate website from their online shop and provide an enhanced user experience for their customers.
About GMO Registry
GMO Registry is a domain registry services operator based in Tokyo, Japan. Established in 2009 with a vision to secure meaningful and trusted namespace for ecommerce, the company acquired .shop in a $41.5 million ICANN auction in January 2016.
Today GMO Registry operates more than 40 Top Level Domains including .tokyo and GeoTLDs representing major Japanese cities, while global brands including Canon and Hitachi have chosen GMO Registry as a technology partner to build exclusive branded namespaces under their own top level domain. For more information please visit http://www.gmoregistry.com/en.
About GMO Internet Group

GMO Internet Group is an Internet services industry leader, developing and operating Japan's most widely used domain, hosting & cloud, ecommerce, security, and payment solutions. The Group also comprises the world's largest online FX trading platform, as well as online advertising, Internet media, and mobile entertainment products. GMO Internet, Inc. (TSE: 9449) is publicly listed on the Tokyo Stock Exchange.
---
Contact
GMO Registry, Inc.
email: newgtld@gmoregistry.com
phone: +81-3-5456-1601